Gauge Chart aka Speedometer Chart is one of the favorite chart of many Excel Dashboard Experts. But still, Excel doesn't have a predefined template for Gauge chart. What you see here is a combination of a Doughnut chart and a Pie chart
This article is about creating a Gauge Chart by combining a Doughnut Chart and a Pie Chart and we will start with the Doughnut chart.
Number of divisions in the Speedometer Chart = Number divisions of Doughnut Chart – 1
The first Gauge chart which I create here will have 3 divisions and later I will show you how to add divisions to a Gauge chart. Let the first 3 divisions be 20, 30 and 50 and the last division is the sum of all these divisions. So, the value last division will be 100
Select the data
Go to Insert Tab, From the group for charts, Click on the icon for Insert Pie or Doughnut Chart
Select Doughnut Chart from the available options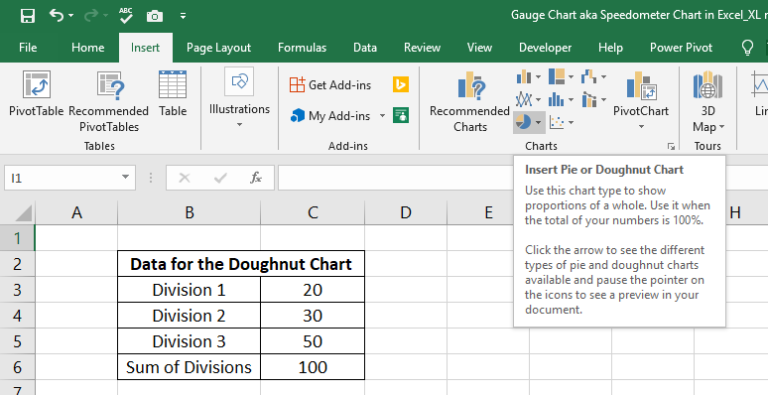 Right click on the Doughnut > Select Format Data Series
In the dialog box for Format Data series, Change the value for Angle of First Slice to 270

Click on the lower half of the doughnut chart and this will activate the Format Data Point Dialog
Select the radio button for No fill to hide the lower half
Click on the chart area 
Select the radio button for No Fill under the section for fill
Select the radio button for No Line under the section for Border
Select the Chart Title and Legend, press the DEL key to delete those objects
Now we need a pointer to denote the reading, and we will use a pie chart for that.
Regarding source data for the pie chart
Value 1 should be Reading – Thickness of pointer. Optimum pointer thickness is 2. That means, If the reading is 50, Value 1 = 50 – 2 = 48
Value 2 – Thickness of the needle, 2
Value 3 – Sum of all divisions of the Doughnut chart + Sum of Value 1 and Value 2
Select the Source Data
Go to Insert tab, From the group for charts, Click on the icon for Insert Pie or Doughnut Chart
Select Pie Chart from the available options
Right click on the Pie > Select Format Data Series
In the dialog box for Format Data series, Change the value of Angle of Slice to 270
Select the First slice of the Pie
Click on the radio buttons for No fill under Fill
Click on the radio buttons for No Line under Border

Repeat the procedure with the Third slice of the Pie
Click on the chart area 
Select the radio button for No Fill under the section for Fill and No line under Border
Select the Chart Title and Legend, press the DEL key to delete those objects
Select the second slice (the part of the chart which will used as the pointer) and change the color using Fill Color Option
Now that we have the needle and divisions for the speedometer chart, We have to align them
Select both of the charts > Click on Align option in the format Tab
Middle > Center > Top
And when we modify the value in the cell for reading (this cell should be linked to the cell for value 1) and the pointer moves accordingly